Don Ciccone's career as a singer and musician (The Critters, Frankie Valli and the Four Seasons, Tommy James and the Shondells) has taken him around the world -- but songwriting remains nearest to his heart. After all, his initiation into the music industry came as a direct result of a producer overhearing him rehearse an original song during a break in a recording session.
He started writing songs and putting together bands just a few months after beginning guitar lessons at the age of 12. At 15, he auditioned for a locally popular band in Westfield, New Jersey. The Vibratones, led by Jim Ryan, were looking for a rhythm guitarist who could sing. One of Ciccone's best friends, Bob Podstawski (who would become the sax player and singer with The Critters), had suggested to Ryan that Don would be perfect for the slot.
"I would have rather been a lesser member of The Vibratones than the leader of my own band -- that's how good this band was. During the audition Bob said, 'Hey, Don's written some songs too -- Don, why don't you play some songs that you wrote?' I did, and that may have been what clinched the deal."
Don's enthusiasm for the group motivated him to put together first one management team, then another; eventually the group, by then re-named The Critters, landed a recording contract with Kama Sutra. It was during a break in recording their cover of John Sebastian's "Younger Girl" (which would become the band's first hit) that serendipity struck. Producer Artie Ripp walked by the rehearsal studio at exactly the right moment.
"During break time I was rehearsing a song I'd just written called 'Mr. Dieingly Sad'. Artie overheard it, walked into the room and yelled, 'STOP! What is this song?', and Jim said, 'It's something that Don just wrote.' Artie said, 'Stop right here, we're gonna stop the recording of "Younger Girl", we're going right in the studio to record this.' We went in the studio at that moment and recorded the tune."
Riding on the crest of the popularity of "Younger Girl", Kama Sutra released "Mr. Dieingly Sad" next -- and it surpassed the previous single's success. Unfortunately, there was no time for Don to bask in the glory of rising fame, or capitalize on its rewards.
"In the first several months of being in the service I received a package in the mail, and in that package was The Critters' first album. I'd recorded the lead vocal on 'Younger Girl' and had written and sung lead on 'Mr. Dieingly Sad' but I was drafted into the military before the album was completed."
The gentle rhythm, unique lyrics and haunting harmonies of 'Mr. Dieingly Sad' have made it an enduring favorite not only with fans but with other recording artists as well, many of whom have covered the ballad in the last three decades (Ciccone himself being one of them).
"The elements that I think made that song appealing to the market audience at the time were that it was a beautiful combination of chords and melody, it had a flowing poetic lyric and the harmony lines and harmonic intervals were unique for that time. Actually, the harmonies were written before the lyric was complete."
After an honorable discharge from the Air Force, Don quickly learned that the recording industry measured time quite differently than most. "At meetings with record company people I'd say, 'It was only two years ago that my group had hits', and I remember someone saying, 'Two YEARS ago? We want to know what you've done in the last two MONTHS!' So, it was a rude awakening for me. Here I was at 25 years old, listening to people refer to my hits as 'oldies' -- I was feeling like a has-been well before my 30th birthday."
Disappointed but not disheartened, Don opened his own lead sheet company. Once again, serendipity stepped in: "There was a writer by the name of Tony Lordi for whom I was doing lead sheets. He was signed to Sunbury Dunbar, which was the publishing company for RCA, and I was RCA's lead sheet guy. Frank Costa, who was in charge of Sunbury Dunbar at the time, asked me if I'd like to meet Tony. We met, and it turned out he'd always liked The Critters. Anyway, a week later I got a phone call from Frankie Valli, who had just had lunch with Tony, asking me to become one of The Four Seasons. So, had I not been turned down by the record companies because in their eyes my writings had been so 'old', I wouldn't have started the lead sheet company; had I not started the lead sheet company, I wouldn't have met Tony Lordi, and had I not met Tony Lordi he wouldn't have dropped my name at a lunch date he had with Frankie Valli."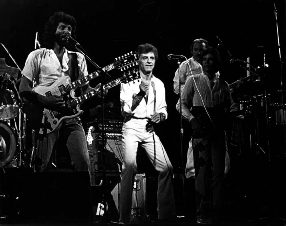 After a ten-year run as one of The Four Seasons, first as lead guitarist and later bass player as well as a lead vocalist on "December 1963 (Oh What A Night)", "Who Loves You" and others, Don decided it was time to once again strike out on his own -- this time he turned his talents to award-winning jingle writing.
"I very quickly realized that writing a jingle spot is a lot more of a challenge than writing a song. With a song, if it takes you another 30 seconds to get the point across, if it takes you another 6 bars to get the right effect, that's what you do. You can't do that on a jingle. It must fit an exact time constraint. So my musical abilities and my mathematical abilities were called into play. In the sixties I'd left college as a physics major for a record deal with The Critters; jingles afforded me the chance to utilize my musical talents and the math abilities and interests that I'd always had. I loved writing jingles; and best of all, there was instant gratification -- you could hear your work on the radio within weeks."
Perhaps he's more patient these days , because he's back to songwriting (long-form) again. Don says he's broadened his listening base over the years, and feels that's helped him become a more diverse writer. "If I had to choose artists and writers who I really like, it would have to be people like Marc Anthony, Steve Wariner, Clint Black, Seal, Garth Brooks, Tracy Chapman. And I still love the techniques of the same players I always did: Chet Atkins, Roy Clark and Glenn Campbell."
Clark? Campbell? Black? Brooks? What's that about? Has Ciccone gone country?
"Well, I don't know about that, but I do seem to be drawn to it lately. Admittedly, I didn't like country very much years ago, but it's evolved so much as a genre that I now love it -- the ballads, the honky-tonk, all of it. And I've recently written some country/crossover tunes."
He's also written two Christmas ballads for next season, some blues tunes and love songs -- all while planning a new CD and putting together a new live act. Baby boomers and beyond are in for a treat when they hear Ciccone's spin on songs like "Peggy Sue" with a blues twist, a funked-up "Hound Dog" and yes, new treatments of "Younger Girl" and "Mr. Dieingly Sad".
"The solo act is basically a collection of all the best music that I remember from my life with a special touch I'm giving to each one. I think perhaps the most enjoyable part of the whole project is that it's the most musical thing I've ever done, which is exciting to me as a writer and arranger. Of course, I'm aware of the fact that when you take a song and re-do it, it's never as good as the original but the reason is that you can't replace the feeling that the listener had when he or she heard that tune for the first time, or at a particularly memorable moment -- so it's definitely challenging, and I enjoy that aspect."
Backed up by zendrum and keyboards in his live act, Ciccone also performs some of his newer songs -- and he has an open mind when it comes to the question of who should record his new material.
"Ultimately if I'm the right one to record those songs, OK, that'd be fine. There are so many great artists out there, in so many fields, that I may be writing songs for several of them right now -- that's a strong possibility. Particularly in terms of the country market, I just think there are some crossover tunes here that are really valid so I'd hope to be listened to by some of the current artists and have my writings seriously considered. I'm having the best time in my career right now, both performing and writing -- and I'm finally having a website designed (http://www.donciccone.com/). As far as my original songs are concerned, I still have the same old goals -- you write a song that you think is good enough to put out there in the marketplace to see if you'll be accepted through your songs. It's a scary thing to do, it's a risky thing to do, but that's what the drive is and that's what the reward is all about."
---
You can learn more about the interviewer, Terri Ann Palumbo,
and view her other interviews & articles within her regular column.