| | | |
| --- | --- | --- |
| | Regular Columnists | |


Indie Bands - Take Your Songs Off Myspace!
By James Moore - 09/29/2010 - 11:22 PM EDT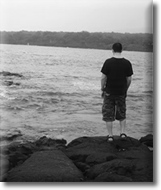 If you ask people what has turned them off indie bands and finding music online, you may just hear the answer "Myspace bands". Not only is there an overabundance of poorly presented artists on the site - many of them also make a habit of spamming their friends lists to the point where most people have shut down or abandoned their accounts and moved over to Facebook.

If your music is not professional quality yet, REMOVE IT FROM MYSPACE (or, the internet as a whole of course)! It's as simple as that. You're not doing yourself any favors by posting impromptu jams or recordings from your jamspace.
Every serious band must prepare their best songs and record a professional CD or series of songs to promote themselves with. Itís an obvious point Ė but the music must be intact. Donít rush the process in order to get online faster. Pay the money and get it recorded right. The market is already flooded with bands who have extremely high quality production. Being at their level is only the starting point and itís the bare minimum you need to succeed in the music business. You may be able to score a great deal by recording in a home studio or with a music production student. The main thing is to have strong material that is recorded well. Not necessarily Michael Jackson quality of course, but it must be impressive!
Thereís nothing worse than going to a bandís Myspace page and hearing garage or ghetto blaster quality recordings. Itís a waste of everyoneís time. If this sounds like your band, take your mp3ís down temporarily until you re-record. Then youíll be ready to start promoting. Even if you get 3 songs properly recorded, itís better than a full album of ghetto blaster noise. No one in the industry expects a 15 song album these days. Some bands choose to release an mp3 per month, or a 4 song digital release. All the rules have been broken, so do whatís right for your band.
If you are unprepared financially to record even one song professionally, go make some money and make it happen. How will you do anything else if you canít do this? You should not be listed ANYWHERE on the internet with unprofessional content representing you Ė even on local websites and forums. If everyone followed this advice, independent music websites would be much more popular, and much more rewarding to scour through. Imagine Myspace without all the amateur garbage?
It's possible to create this reality if we all work together and become our own quality control.
[ Current Articles | Archives ]