| | | |
| --- | --- | --- |
| | Regular Columnists | |


Why Independent Artists Need To Understand Perception
By James Moore - 06/23/2013 - 02:53 PM EDT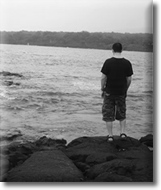 It's a simple fact that people gravitate towards momentum. It's one of the things that connects us and makes us want to gather in groups. It's wired into our brains. So why is it that many artists don't pay attention to momentum, and instead expect fan support when they haven't cultivated this quality? Artists set up a Facebook profile, gain 200 fans, and start submitting their music to Sonicbids opportunities, festivals, tours, etc. But the issue is one of perception. Artists think that individuals and companies who visit their web profiles will listen to their music and judge them solely on that.

Not the case. Perception plays a role. Think about it. If you go to a show and the opening act is being watched by two people, and one of those people seems more concerned about drinking their beer than watching the band. Admit it. It's a little bit harder to "slip into" the groove, isn't it? On the other hand, if you walked in and 100 people were surrounding the stage, and buzz was ripe in the air, you'd immediately ask in Jack Nicholson-style "Stop the press! Who is that?" Of course, depending on your particular upbringing and musical leanings, some resistance may come up, but generally, this is something most of us psychologically share.

Contrary to what you may think, this isn't really a bad thing. It probably comes from a security/survival area of our brains. We often want to share our experience and feel our connection, or sense of oneness with each other. This is part of the draw of, say, a Paul McCartney or Tom Petty concert. Those events have momentum, and part of that momentum is the emotions of everyone in attendance.

Now, before you get discouraged, it's pretty clear that momentum is something that is perceived, and therefore, it's in the eye of the beholder. It can be created, and perceived momentum creates actual momentum. In the example given earlier of the band playing for 100 people at the club, you as the viewer have no idea if those are genuine fans who answered the call, or perhaps paid extras in the live video shooting, or merely family and friends of the band generous enough to time their attendance for maximum effect. Maybe the band hit the streets promoting the show in un-glamorous ways doing things you thought were reserved for promoters only. There are so many possibilities. The point is, the end result is that you perceived the band as having momentum, and that brought you into the fold.

This brings me to the main point of the article. In my view, at least from what I've been learning lately, it's very important for artists to be very aware of how they would be perceived from outsiders, without of course being self-conscious. For example, I'd say that any industry professional, music blogger, editor, writer, etc will often give artists a roughly 30 second window of time IF they get to your link at all. Of course, they'll listen longer if they love it in some cases. But think about it. You could have the same brilliant album, and in one reality you have 5,000 Facebook followers, while in another you have 132. That's perception. That's momentum or lack thereof, and you will be judged on that. There are many ways to organically build your following and I won't go too deep into that here. Facebook has just changed their advertising, so you can target, say, fans of The Mars Volta in your home state only if you so desire. Your ads automatically turn into promoted posts, too, a feature I highly recommend. They've worked for my own page at www.facebook.com/independentmusicpromo. Stumbleupon offers promoted stumbles and Twitter has a new music app you can experiment with.

Anyhow, I hope you can see why perception is important and how it's not unfair or a bad thing. You use it just as much as anyone else. I also hope you see that it can be manufactured and used to your advantage. I'm NOT suggesting you abuse this idea. I'm talking about great, honest art giving itself the proper respect. Get your appearances up and pay attention!



[ Current Articles | Archives ]