| | | |
| --- | --- | --- |
| | Regular Columnists | |


Rock Revival pt 2 - Danger Van Gorder From Countless Thousands
By James Moore - 11/08/2011 - 05:33 AM EST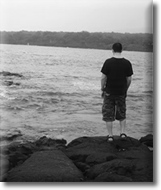 In the 2nd installment of "Rock Revival" I spoke with the very talented and hard working Danger Van Gorder, lead man of the stellar alternative/punk band Countless Thousands. Van Gorder is a perfect subject to discuss music marketing with. He is passionate about his craft, first and foremost. He also works very hard promoting his music, and he uses a variety of tactics to do so. While may bands waste precious time on social networks, Countless Thousands perfect their song-writing craft and aim for real press. I believe that hard work and a positive attitude both generate results, and he certainly has both.

I have a feeling that Countless Thousands will continue to gain more and more fans over the next few years and gain some serious success. Independent artists should find some inspiration and some common ground in the interview below.

1) Countless Thousands are an innovative and talented band. Tell us about what you bring to the table.

Genuine Enthusiasm! We forsake ascribing ourselves to any particular style or genre and instead declare our loyalty to enthusiasm. Art is most engaging when you can tell the people putting it into the world love doing so. Everything we do, we're stoked about it. The name of our debut album is "We're Just Really Excited to Be Here", and we live and die by that philosophy. No cynicism, no irony. We sing about some pretty outlandish subject matter - don't get me wrong, but we never laugh at that. We're nerds. We seek the communal experience of awesomeness. We absolutely mean everything we do and say. Also, we bring innovation and talent.

2) What do you feel are some of the ways that indie bands should adapt and change in today's music industry? What qualities should a successful band have?

Cultivate the ability to tolerate failure and react efficiently to betrayal. Boy, that sounds heavy, but it's crucial. I've been trying to make the same band succeed for coming on eight years now, and it's been a long trek full of folks who make big promises and then bail. When the tenth drummer disappears suddenly, you have to be able to jog out your frustration, hop on Craigslist, and start auditioning dudes again. In a word, tenacity. Believe in what you're doing.

3. What have you found works well for you as far as promotion goes?

Try to get in touch with the bloggers themselves, occasionally you'll be charming enough and they'll have a free moment at the opportune time. We sent a box of cookies to one blogger who was a sweetheart, there's nothing wrong with greasing the wheels a touch if they welcome it. And for goodness' sake, respond to anything they send you. Say thank you.

4. Who in music today do you most admire most and why?

My immediate reaction is to say Ted Leo because he's still making good music on his own terms and touring the country like a madman. But i feel like the better answer, quite honestly, are folks like the famous James Moore of Your Band Is A Virus. Which is to say that we as creative types need our cheerleaders - people who won't BS us and who have a genuine interest in getting good music out into the world without ever getting a shred of credit.

5. Do you have any advice for independent musicians who may feel disillusioned or discouraged at times?

Exercise. I train MMA three days a week if I can manage it. Point is, discouragement is a constant and you have to really celebrate the little victories and keep yourself motivated when no one else will. When you feel stuck, though, go for a jog or work out with the heavy bag. Keeps me sane.

To find out more about Countless Thousands, you can visit their Facebook page.


[ Current Articles | Archives ]