| | | |
| --- | --- | --- |
| | Regular Columnists | |


CD REVIEW: Stuart Robertson - World Figured Out
By Alex Jasperse - 10/21/2007 - 11:56 PM EDT
Artist: Stuart Robertson
Album: Word Figured Out [2007]
Label: Prime Sound
Website: http://www.stuart-robertson.com
Genre: Piano Rock
Production/Musicianship Grade: 10/10
Songwriting Skills: 10/10
Performance Skill: 10/10
CD Review:

Sweeping through what at first glance may appear as a collection of stripped-down pop songs, pianist Stuart Robertson's latest, World Figured Out, unearths an unexplored dimension of a genre that's often subjected to endless accusations of monotony. Expanding the boundaries of catchy melodic ideas with a quiet-jazz attitude, introspective folk imageries and ambient minimalist sensibilities, Robertson offers an engaging music experience that – with each step – becomes more beautiful than the last.

Constructing a musical universe of evolving ideas that reveal more details with each listen, perhaps the only disappointment with the album is Robertson's own admission that he thought he had figured the world out within the first minute of the title track – but it doesn't matter. So as the ticks of a clock slide into the low-fi drumbeat that's picked up by the piano, his delicate vocals dissolve into "Change My Battery." Slipping into the warm arms of modern production, his vocal harmonies and upbeat breaks bring to mind elements of Elton John's rocking key banging with a hint of Stevie Wonder's calming effervescence.

Reflecting upon his master plan in life, the fragile simplicity of Robertson's piano playing in "Big Plan" does hint on disappointment, however, it doesn't remain that way for long. Readjusting his train of thought, powered by a steaming acoustic guitar, his harmonies direct the piece upwards into a drum break, taking a newfound direction – making it all too easy for the listener to get swept up in the chugging force of the guitar and piano lines. Pushing forwards with a deeply reflective, yet powerful determination, "Frowned Upon" carries on the melancholic vibe with a more pronounced rhythmic emphasis. As if to step back from his music to comment on his past decisions (done so with a distant low-fi flavour), Robertson reenters and guides the progression, only to set things forth into a piano waltz in "Lantern" – effortlessly alternating and trading ideas with different instrumental partners.

While completely different from the rest, at first, "Bat Wielding Men" could well throw some listeners off course momentarily. A reminder of the good humour and spirit of early Broadway pieces, Robertson puts on an action-packed chase scene that's driven by steady piano melodies and drumbeats. It's hard to resist smiling as his harmonized vocals repeat "Bat Wielding Men" several times throughout, and it's easy to be pushed off balance listening to some of the smaller details in the latter half (such as an uneasy organ texture mixed in relatively low), however, it's certainly worth the admission to sit through it again.

With each song deepening the mood and intensity of the last, the tranquilizing force of Robertson's now recognizable signature sound makes it clear that he's mastered the art of simplification – despite his lofty biographical note that "[he] thinks too deep to see simple," later on. Able to convey a rich poetic and musical statement without having to repeat himself speaks of a tour-de-force emotionalism that's simple surreal. So while "Just Don't Do," "Think too Deep" and "Ground" could have been easily combined as one song (each short of the two-minute mark), the decision to keep them as three separate pieces – weaving familiar touches of melodic and vocal ideas throughout – presents a statement that simply could not have been expressed with such effect, otherwise.

Nearing the end, "Last Thing" and "Harder to Fight" are two beautiful pieces the revisit melodic ideas from the album's journey. As an elegant finale, "Harder to Fight" is a deeply inward evocation of love and grief, with a soulful endurance that's reminiscent of the work of Mark Kozelek (Red House Painters/Sun Kil Moon), with the power to soothe a tired soul into a place of peace – making it a perfect conclusion.

World Figured Out is a sonic piece of art that's just under the radar of the mainstream, and for good reason: there's no posing here. Each piece reinforces a heartfelt emotionalism that stands strongly to represent Robertson's emergence from his influences and peers into a music of his own creation. While it won't open the door to solving the mysteries of the world, it has effectively opened a door to a work of art that reflects the power of human emotions. And it's this world he's figured out, beautifully.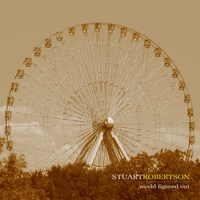 The Verdict: 10/10

For more information, please visit www.stuart-robertson.com







[ Current Articles | Archives ]