| | | |
| --- | --- | --- |
| | Regular Columnists | |


CD REVIEW: Autocondo - Autocondo
By Alex Jasperse - 05/02/2009 - 11:03 PM EDT
Artist: Band: Autocondo
Album: Autocondo [2009]
Label: Independent
Website: http://www.autocondo.ca
Genre: Pop/Rock
Production/Musicianship Grade: 7.0/10
Songwriting Skills: 6.5/10
Performance Skill: 8.0/10
CD Review:

Welcome to the world of 'post-apocalyptic pop' according to Toronto-based, Autocondo: highly structured, commodified, heart-warming, contemporary pop-rock songs about a world that is littered with dried-up gas pumps, decrepit oil pumps and stacks of cars that have been converted into housing after a global economic and environmental meltdown. Sounds like a pretty cheery hell on earth, if you ask me…

Ok, so Autocondo's self-titled release can be understood as a testament to the economic idealism, disillusion and consumer and investor retrenchment that's been dismantling the global marketplace for some time now. But while listening, there's this overriding paradox that doesn't seem right… that music of this 'new world' would be relatively unstructured and sparse (atmospheric almost) with sounds that survivors of the apocalypse would invent, rather than a reiteration of well-worn musical touch points and happy-go-lucky songs packing smiles with every listen. This is not to say the upbeat nature of their work is wrong, rather that should the apocalypse occur, one would at least expect there would be some change in the traditional habits, tendencies and structures of cultural products, and that 'post-apocalyptic pop' would encompass a little more than some spacy, atmospheric guitar work scattered here and there.

That gripe aside, there isn't a bitter taste of a mediocre pop band here – instead a group of professionals who truly live the genre of pop rock. "Paralyzed" opens with seductive guitar riffs, and as the song title is sung it immediately conjures memories of the chorus of Neil Diamond's "Sweet Caroline", but soon breaks free of associations with an earth-rattling mid-section breakdown the flourishes into alternating piano and guitar tradeoffs. Dramatically slowing the pace down in "Saw the Light", remnants of what sounds like David Gilmour's On an Island work, enters with sweeping and sustained guitars drifting in an ebb and flow, before lapping against the warm shores of the organ. Picking up the opening track's speed again, "Wits End" is led by Tony Duggan-Smith's warm and sharp vocals, and the upbeat groove suddenly conjures memories of The Beatles' "Ob-la Di, Ob La-Da" through a series of layered vocal passages.

Departing from recognizable influences after the first three tracks "Send Her Back" and "When the Dust Falls" begin to demonstrate more of Autocondo's originality, deconstructing and recombining elements of pop-rock-isms, to shape beautiful acoustic tracks with well-placed organ and guitar injections. Two tracks later, "Lemego" becomes one of the most enjoyable tracks due to the fact it finally lives up to what the overly advertised ethos of the album is about: new music for a new world. As the longest piece on the album, the sweet atmospherics in the beginning usher in a distant drum beat, and as an electric guitar gently cries in the background, its pace picks up into Duggan-Smith's sweet vocals – dissolving into hypnotic jazz-guitar stylings and moving piano lines that continually keep the soundscape in a constant state of flux. The transition into the cover of John Lennon and Paul McCartney's "Cry Baby Cry" is seamless, but after hearing the previous track, it's a sudden slap in the face to find Autocondo is back to clinging to the musical legs of their influences to validate their existence and relevance, making it barely passable.

Nearing the end of the album, it becomes rather easy to permanently slap on the "pop rock" label and toss it in your collection, only to revisit either by accident or for simple nostalgia purposes down the road. Now here's where things do a complete 180, transforming the album from being the product of some incredibly talented musicians, into being 'that album' with a work of art that resonates to the point of utter emotionality. As the last track on the album, "Saw the Light (Reprise)" features the vocals of Sue Breit who had done backing vocals for much the album, alongside the mandolin work of the multi-talented Duggan-Smith. The ferocious elegance of its simplicity – a combination of wandering mandolin strums and immaculate, intense vocal nuances – transcends heart-warming, becoming experiential as though the song is personally yours. It is bare, and if Autocondo is truly a post-apocalyptic band, then by far, not only is it the standout track on the album, it is the piece that articulates the core of their musical identity. Utterly beautiful, and worth a listen.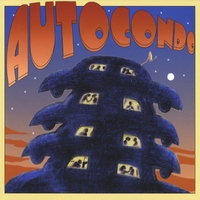 For more information, please visit Autocondo's official website.

The Verdict: 7.1/10








[ Current Articles | Archives ]