| | | |
| --- | --- | --- |
| | Regular Columnists | |


CD REVIEW: Dal Knezevic - A Long, Dark Night of the Soul
By Alex Jasperse - 01/02/2009 - 05:12 PM EST
Artist: Dal Knezevic
Album: A Long, Dark Night of the Soul [2008]
Label: Independent
Website: http://www.myspace.com/dalknezevic
Genre: Jazz-Fusion, Ambient, Chill Out
Production/Musicianship Grade: 10/10
Songwriting Skills: 10/10
Performance Skill: 10/10
CD Review:

Defying any impulse to reduce his art to a single musical footnote, Dal Knezevic's latest release, A Long, Dark Night of the Soul is a complex, multidimensional and colourful ambient-jazz offering. Guitar-driven and completely devoid of excess, it is sonically sparse and spacey with delicate sound effects and layers of moody textures – and quite possibly the best guitar instrumental release of 2008.

Bleeding dark and evocative atmospherics, there is an ageless wisdom dripping from each song, enabling Knezevic's compositions to etch themselves into your consciousnesses and demanding nothing less than replay. "Undertow" enters as a stream of uninterrupted musical passion, mysteriously led by growling lead guitars that keep their distance, never entering the forefront, and inciting a natural reaction from listeners to recognize a line is being drawn that is not to be crossed. Transitioning into the rotary-laced guitars of "Icelocked", the drums keep a steady beat to the left – never deviating from their simplistic progression. Ethereal female vocals enter, slowly dragged out of the soundscape by the hands of the synth bass. The effect is hypnotic, other-wordly.

Evoking a Robert Plant-meets-Richard Barbieri-meets-Ian Brown sentiment, "Silhouettes" gently pushes forth with a blues-drawl, as reversed guitar riffage sweeps in and out. Knezevic's seductive guitar playing makes for a surreal listening experience as he sweetly blends his guitar playing into the leads of a trumpet. In the xylophone-driven "Reinhold" and the sly, bass-led "Kafkaesque", you can feel Knezevic's superb guitar vocal-inflections in the songs' thick, distorted tones. Continuing into hazy slide guitars, "Ironweed" gently serenades with ethereal and elegant atmospheres, before majestically ascending alongside trumpet lines to its finale.

There is an unforgettable structure and ethos to Knezevic's music: it is a fiercely original blend of ambient, ethereal, moody and chill-out jazz pieces. On top of that, the album's soundtrack-esque quality repeatedly hints at a story threading through each composition, one that requires listeners to actively construct a dialogue that follows each piece as the album progresses. Pieces such as "Inertia" set your imagination ablaze with curvaceous drum rhythms and Rhodes piano, and as you travel the soundscape, you feel as though you've stepped into the midst of a devious ploy challenging your conceptions of normalcy and civility.

Come the next track, "Scare Tactic", you consciously feel a distancing from conventions of right and wrong, surging with abstract and darkened ideals. You become surrounded – supported – by brooding instrumental textures that launch into vocoder-drenched vocals, before viciously pushing forth into distorted guitar leads. Then, within a moment it all dissolves in front of you, and you are sedated by sustained organ and guitar lines in "Junius" that suddenly return the world to order and ease. Instrumental parts and textures drip down the sides of the soundscape, flowing toward the centre, slowly pulling you into their sonic comfort, bringing the entire journey to an end.

A Long, Dark Night of the Soul is an album so uniquely personal that it is undeniably authentic. Flirting between genres, Dal Knezevic has created lasting musical relationships that are sonically dazzling and utterly captivating. It's fair to say that artists such as Trentemøller, Ulver, Richard Barbieri and Kevin Moore have all touched upon this sound before, but none have evoked such sustained, carnal, gut-wrenching emotions under a single album cover. A Long, Dark Night of the Soul is a must-have for the serious listener.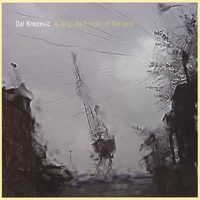 The Verdict: 10/10

For more information, please visit Dal Knezevic's myspace page.








[ Current Articles | Archives ]